Special cold welding adhesive for acrylicglass
With the special adhesive PMMAprofi of our own brand S-Polybond was specially developed for gluing acrylicglass by cold welding. PMMAprofi glues acrylicglass (often also called Plexiglas®) permanently and safely together and is also excellently suited for repairing breakage and cracking in the interior and exterior, regardless of whether it is transparent acrylicglass, colored acrylic glass or acrylic glass in opal
In addition, our S-Polybond PMMAprofi glues acrylicglass with many other plastics such as ABS, ASA, SAN, PVC, PS and many more.
Properties of Acrylic-Glue
PMMA
profi
PMMAprofi was specially developed for the permanent bonding of acrylicglass (also known under the brand name Plexiglas®) by cold welding. After complete curing of the adhesive, a break at the point of adhesion is almost impossible, so that a break in the acrylicglass itself is to be expected. The acrylic glass adhesive of our own brand S-Polybond can easily be used for outdoor applications, for example, to repair cracks or breaks in roofs and windows made of acrylicglass, but should be protected against the ingress of moisture until fully cured, as this quality of the bond may affect. With professional bonding, the parts to be joined are inseparable after complete curing, so that the adhesive layer can remain permanently under water.
PMMA

profi is a special cold welding adhesive for gluing acrylicglass (PMMA)

PMMA

profi is absolutely colorless and therefore also suitable for colored acrylicglass or acrylicglass opal

PMMA

profi does not negatively affect the UV- and weather resistance of acrylicglass

PMMA

profi also creeps into the finest fracture point, thanks to the very high capillary action

PMMA

profi is impermeable to water at the point of adhesion after the complete curing
Applications examples of use of acrylicglass adhesive
PMMA
profi
Our special adhesive for acrylicglass is as versatile as the plastic itself and is therefore not only used in the industrial bonding of large parts made of acrylicglass, it also is used by private users, for example, minor repairs to broken plastic glazing or cold welding of cracks used in illuminated advertising displays made of opal acrylicglass.
PMMA

profi is ideal for repairs of cracks and breaks in the material

PMMA

profi can be used for the production of transparent containers made of acrylicglass

PMMA

profi can be used for gluing acrylic windows into other plastics

PMMA

profi is suitable for gluing outdoor acrylicglass roofs

PMMA

profi can be used for complex, weatherproof advertising signs with lighting
Processing of acrylic glass adhesive
PMMA
profi
Applying the colorless adhesive can be extremely accurate and economical thanks to the fine dispensing needle. Due to the outstanding capillary action of the very thin, water-like adhesive, our S-Polybond PMMAprofi also reaches difficult-to-access areas of the surfaces to be bonded in order to achieve the maximum adhesive effect.
Shortly after application, the surfaces to be bonded are loosened and cold-welded, and after only a few minutes is hand-tight, a fixation time of about 30 minutes is sufficient for most bonds, without the need for another component to harden. For adhesive joints which are subject to strong stresses, for example, when acrylicglass is bent during bonding, it is advisable to fix the parts to be fully cured after about 24 hours. As with any bond, regardless of the material, the surfaces should also be removed from dust, grease and protection when bonding with our S-Polybond PMMAprofi as they will adversely affect the bond can.
Processing time: approx. 2 - 3 minutes
Fixing time: approx. 30 minutes
Curing time: approx. 24 hours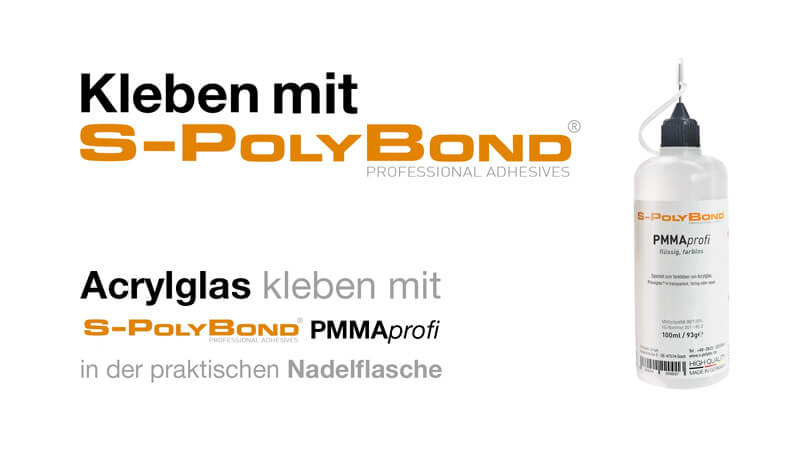 NOTE: Our special acrylicglass adhesive PMMAprofi isn't suitable for plastics such as PE, PP, PTFE, PET, POM, EPDM.
Safety instructions for the processing of acrylicglass adhesive
PMMA
profi
Please observe the safety and application instructions of the safety data sheet before using the acrylic adhesive. Ensure adequate ventilation or adequate exhaust air at the workplace. For longer work with the special adhesive, we recommend butyl rubber gloves to prevent dehydration of the skin. Always keep adhesives out of the reach of children.
Danger clues

H225 - liquid and vapor highly flammable
H319 - causes serious eye irritation.
H336 - may cause drowsiness and dizziness.
For the full text of the hazard statements, as well as the safety instructions, please refer to section 16 paragraph 1 of the safety data sheet for our PMMAprofi.
Plexiglas® is a registered trademark of Evonik Performance Materials GmbH.